Plans are set for a return to Mallorca in 2023
April 21 – 30, 2023 

$3200 Cdn
September 29 – October 8, 2023  $3400 Cdn
Simply put, the island of Mallorca is a cycling paradise.
Mallorca: 10 days in cycling heaven
More than 150,000 cyclists head to Mallorca each year for the exceptional cycling, and the warm welcome.
Our 20+ years of experience in leading trips to Mallorca puts you in the perfect spot to just relax, ride your bike and let us take care of you and the details.
Fly to Palma de Mallorca, Spain (PMI), and you will be picked up at the airport.
We'll stay the Esmerelda Park Hotel in Cala D'Or, about an hour's drive from the airport.
Relax and let us take care of you.
The island of Mallorca offers a fabulous variety of terrain and scenery and we will explore a great deal of it. Mountain days may include challenging switchback climbs of up to 15km.
Interior routes offer rides on Mallorca's labyrinth of quiet, stone-walled roads through pastoral farmlands and ancient vineyards. Spectacular shoreline roads offer flat gentle routes, connecting picturesque towns and beaches. It is just a wonderful place to ride your bike.
This is a cycling holiday..
… not a training camp.
That said, we take our group riding seriously and our leaders focus on quality group riding. For those with little group riding experience, we are there to teach you all about safe, predictable, enjoyable group riding.
Upon arrival, we try to get everyone set up on their bikes and out for a short ride to flush out the travel and on to the Mallorcan time-zone.
In addition, there are 7 riding days and a full rest day. (Of course, we are adults on holiday and you are welcome to take more rest days.)
Itineraries are adjusted to meet the needs of the groups.
Mallorca has mountains and we will climb them. Twice,  we will  transfer the group and bicycles to remote starts and explore as much of the island as possible.
Choose from 3 groups each day.
There are 3 group options your day's ride. Each group will be led by a guide who can change a flat tire,  find a good coffee and lunch spot and lead a safe group ride.
Groupo Relaxo – rides 50-80km/day while enjoying great coffee stops, town squares, lunch stops and all the beauty of Mallorca. There will be challenges and new experience but not at the expense of smiles, laughter and the pleasure of riding.
Groupo Not-so-Relaxo – rides a little faster and further but with the same smile and need for coffees and lunch stops. 80-100km is the norm.
Groupo Rapido – puts in more kilometres but maintains the focus on quality group riding. There are plenty of challenges in this groupo, but the spirit of the group takes care of everyone and gets us all home for happy hour.
All 3 groups leave at the same time and aim to be  back at the hotel patio for a shared happy hour.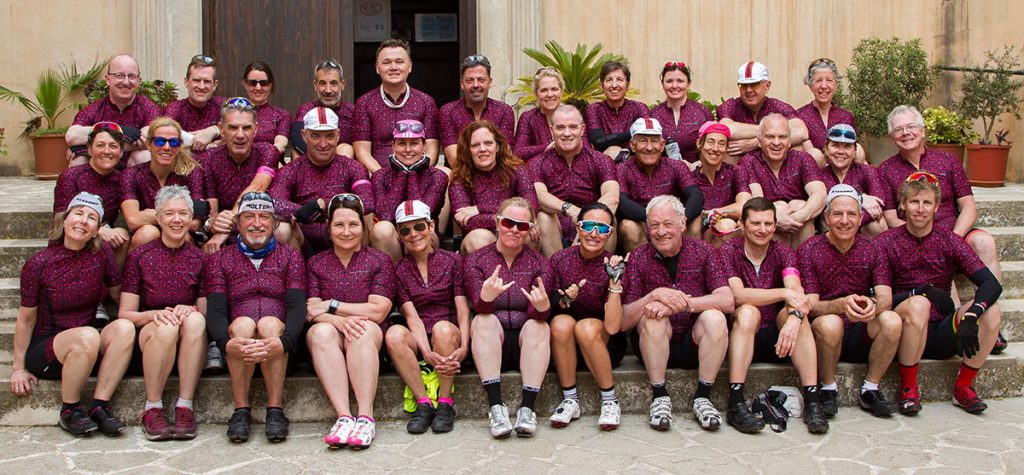 7 am: do yoga, take a walk, go for coffee, or stay in bed
8 am: breakfast opens
10 am: meet, ready to go riding
10-4 pm: ride, chat, ride, coffee, stop for lunch, ride some more
Post ride: happy hour, jump in the sea, do what ever you want
8pm – dinner and evening fun
High-end bike rentals are available and makes travel so easy.
Depending on availabiltiy at time of booking bikes may be GIANT, STEVENS , FELT or other reputable brand.
Bring your pedals and saddle and be set up to go.
We can assist in assembling and repacking your bikes should you choose to bring your own.
Download our sizing form
Other things to keep in mind.
To really enjoy this trip, be fit and ready for all that comes.
The Hotel is outstanding and can work with any diet restrictions or special needs.
The spring weather is spring weather, meaning it can vary. Come prepared for the possibility of cooler temperatures and then enjoy all that comes.
Pack a sense of adventure and humour. This is going to be fun!
Extra days are available.
Cycling shorts and other items are available for sale in Mallorca.
Ask about our  NON-rider price.  We are on an island in the Mediterranean. What a place to be, on a bike or not.
We are certainly keen to get going again and to sign you up. For now, we are patiently waiting out the pandemic and being part of the solution to find our way through.
Boulevard Travel will be ready when the world is.
For now, we would love to hear of your interest and welcome any opportunity to chat about Mallorca.
Email any time: mallorcajohnny@gmail.com