Our 2020 Canary Islands Cycling Adventure
As an exciting alternative to our Mallorca adventures, we are pleased to offer up a breath-taking and challenging cycling experience in the Canary Islands of Lanzarote and Tenerife. Located off the southern coast of Morocco, the Canary Islands are well known for their great cycling weather, dramatic volcanic landscape, strong winds and challenging and exciting climbs. This is a cycling destination for all those seeking an adventure, amazing landscapes and an unforgettable cycling experience.
Our trip will offer you the following:
Two islands: Lanzarote and Tenerife over 10 days.
​
Lanzarote
Lanzarote has established itself as a popular winter cycling destination. Quiet, smooth roads lead through the island's black volcanic landscape. Strong warm winds will feature in this experience. Our group riding skills will be tested.
5 nights at the 4-star, Hotel Costalero  https://hotelcostacalero.com/en/
Arrival day plus 4 days of riding. 80-100km rides with up to 1500m of climbing each day
We will explore the island, including sections of the Lanzarote IronMan route.
Favourable headwinds are predicted.
Transfer to Tenerife.
Our rest day will be our travel day. A 45-minute flight to Tenerife and transfer to the hotel.
Flight and bike transfers are included in the package.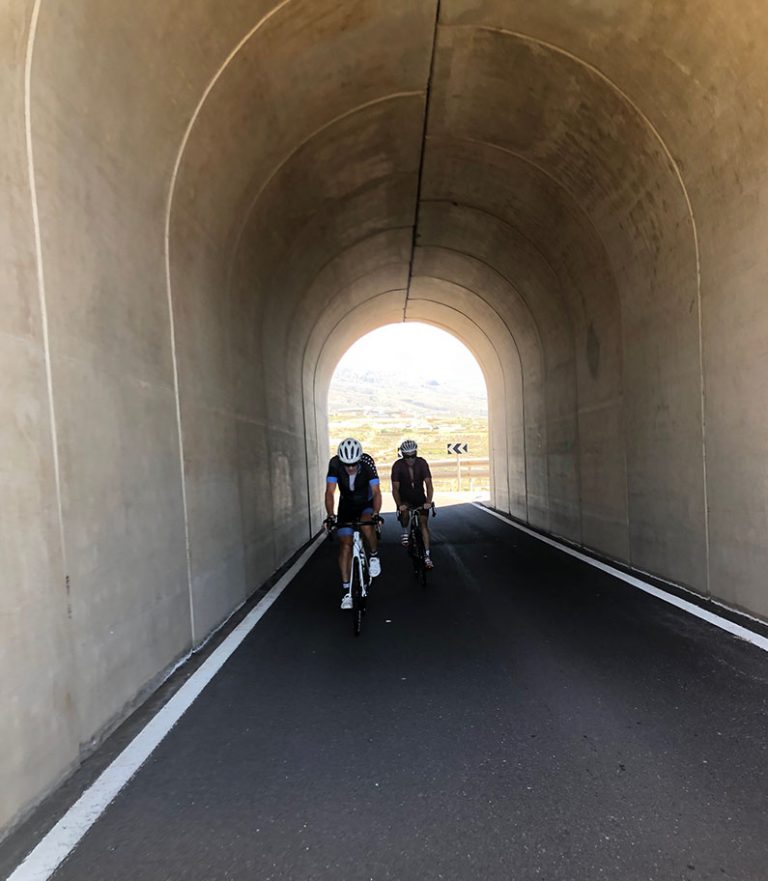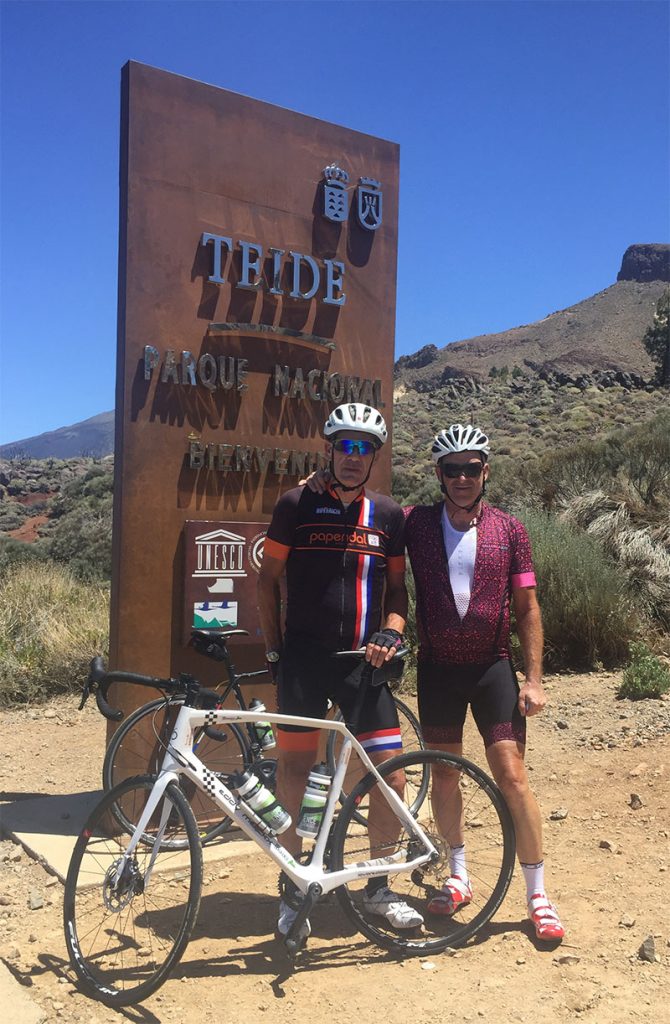 Tenerife
This majestic volcanic island is home to the highest peak in Spain and is a primary destination for professional cyclists seeking altitude and mountain training while preparing for the grand tours. The highest peak is 2300m and one can easily climb 35km to the mountain top of Teide. The island offers spectacular scenery, friendly people, hard, but smooth, climbing and well-deserved happy-hours.
3 riding days with up to 3000m climbing on the toughest day. Spectacular scenery.
Local guides and a support vehicle will be with us.
We change hotels 3 times to give guests a chance to see as much as we can while there
Pack light. We will ride and our luggage will be driven by our support vehicle.
Breakfasts and dinners are included.
All accommodations are included.
We will provide fun for free.
Depart Sunday April 26 from South Tenerife airport (TFS).
Other important points
We have engaged the services of Lanzarote Bike Tours (https://www.lanzarotebike.de/), to help deliver a worry-free, enjoyable cycling adventure. Together, we have everything lined up to provide rental bikes, ground transportation, on-the-road support vehicle and guiding services.
Cycling in the Canaries can be more challenging than Mallorca. For that reason, we are not recommending it for riders seeking relaxed riding.
To really enjoy this trip, be fit and ready for all that comes.
Hotels are all 4star ****
We have hired guides but will always have Peter and John to optimize the group riding experience
The spring weather is consistently sunny and warm but as always with climbs, be prepared for cooler temperatures at the top.
Altitude affects people in different ways. Remember our day start at sea level and can take us up to 2300m. Pack a sense of adventure and humour. This is going to be fun.
Remember when booking flights, you need to arrive in Lanzarote and depart from Tenerife. Connection via Madrid or London is recommended.
Bike Rentals available for the duration.
High-end bike rentals available.
Bring your pedals and saddle and be set up to go.
We can assist in assembly and repacking of your bikes should you choose to bring your own.
Trip Cost
includes all inter island airport service, accommodations, breakfast and dinner, ride support vehicle, guides, special jerseys, flight from Lanzarote to Tenerife, ground shuttle service. (Based on double occupancy)
Single room supplement 
Bike rental option 
Sign Up Now with Boulevard Travel
A $500 non-refundable deposit holds your spot.


Kim, at Boulevard Travel, (kimn@boulevardtravel.com) is ready to accept your deposits and assist with arranging your flights, as well as providing cancelation and travel insurances.
Kim Nguyen | Senior Travel Consultant
www.BoulevardTravel.com | 6713 Fairmount Drive SE, Calgary, AB  T2H 0X6  
Phone:  403.802.4274 direct | 403.237.6233 main
For all cycling-related questions, email mallorcajohnny@gmail.com